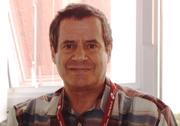 Victor Krasilshchikov 1952-2021
Born in Moscow, November 25, 1952, Dr. habil. Victor Krasilshchikov was a citizen of the Russian Federation (as successor of the former USSR). He graduated from the Economic Faculty of Moscow State University (1977) where he also obtained his Ph. D. in economics (1982) and a doctorate of sciences in 2002.
Victor Krasilshchikov was a specialist in development studies with a focus on the comparison of Russia/ Soviet Union, East Asia and Latin America. He was a member of the European Association of Development Research and Training Institutes (EADI) and the Spanish Network of Development Studies (REEDES). He worked as chief researcher at the Institute of Scientific Information for Social Sciences at the Russian Academy of Sciences.
Posthumously, Springer publisher launched his last book on Brazil. The summarizing collection of four books and over 100 essays that had been previously published in Russian, appeared in English. Titled "Brazil - Emerging Forever? A Case Study of the Mid-Level Development Trap", Krasilshchikov focuses on social and economic challenges of current Brazil as one of the world's so-called emerging economies. It examines the prospects for Brazilian development, looking at both socio-economic and political variables. The book covers the period of Brazil's development in the 20th century and the first decades of the 21st century and also compares the Brazilian case study with other emerging economies like China and India.
We mourn the loss of a dear colleague and friend and send our condolences to his bereaved family.
Martina Kaller for the Erasmus Mundus Global Studies Team